When Spaniard Jose Momplet and his English wife, Carly decided to return to Spain and start an expat services business, they asked Sixth Sense Marketing for help.
It's a big decision to re-locate a family but that is what Jose and Carly Momplet decided to do in summer 2020, returning to the southern Costa Blanca after a number of years in the UK. Both have a background in the services sector. Jose in particular had customer facing roles in the financial services and banking industries.
They had decided before they moved back to Spain to set up a business helping expats living in Spain with all of the issues and niggles that crop up from time-to-time when you live in a foreign country. There were providers already, but with the Momplet's understanding of quality service, Spanish being Jose's tongue and Brexit, they felt there was ample space in the market in the Orihuela Costa area.
Jose explains. "Once we had found somewhere to live, got the children into their schools and began to feel settled our minds turned to the business. Starting with a blank sheet of paper you'd think would be easy. But actually it's quite. There's so much to consider and the trick is understanding what is real priority in a long list under the heading priorities!!
We needed a name, an identity, a website and a marketing strategy.
I did some research online and found out that Sixth Sense Marketing were the agency that the best known law firm in this area already used. I contacted them sensed early on they understood our intentions and knew the Spanish expat market.
What's in a name?
We talked a length about a name for the business. We settled on something descriptive and Expat Solutions fitted the bill. Unfortunately that business name already existed and there were no URLs that worked for us using that name. That's how we settled on Expat Services. We secured the address www.expat-sevices.es straight away with a local web services agency that Nick recommended.
Creating a brand
Nick's design team worked to a brief provided by Jose to create a distinctive brand and identity that would flow across the website, stationery, office signage and marketing materials.
Office signage
The office is in the La Zenia area of Orihuela Costa. It is just off the main N332 road that runs from Torrevieja down to Cartagena. There are good sightlines from the road to the office so that provided a good free advertising opportunity.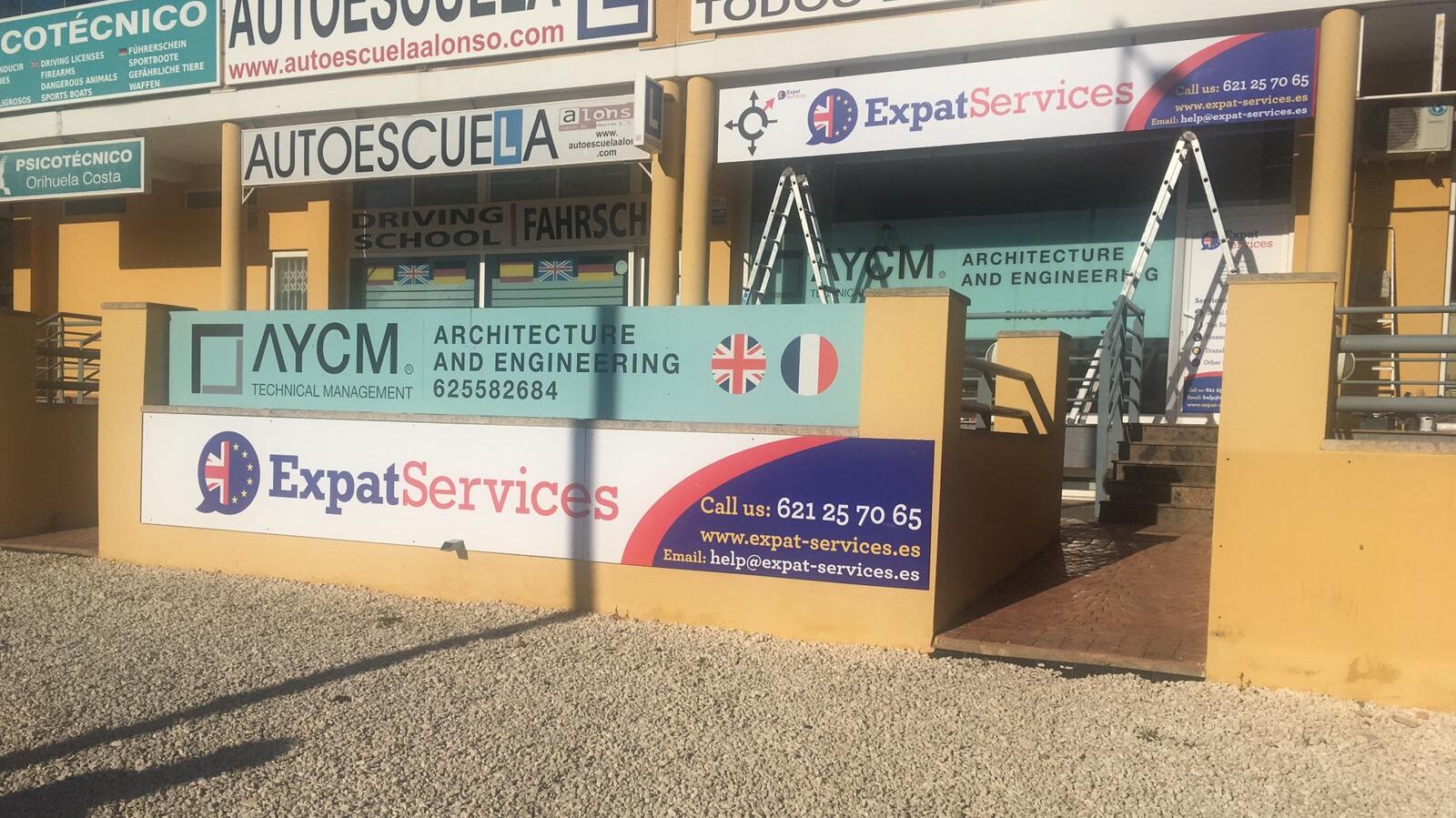 Business Cards and marketing materials
Website. www.expat-services.es
We also created a Facebook business page and trained Carly how to make best use of it. They are building a steady following. With expat community Facebook pages popular in Spain, they are able to like and comment on posts. This is a good source of new enquiries and a positive way to build profile.
---
Enquire about our expat marketing business services