THE ESSENTIAL DIGITAL MARKETING PACKAGE TO BOOST YOUR BUSINESS
A comprehensive digital marketing package helping you to grow your business with quality of service guaranteed from an award-winning marketing agency.
Digital marketing set up
Digital marketing for SMEs starts with ensuring your website, social media and email marketing are set up to maximise success with the metrics that matter for your business.
This will ensure you are focused on, and measuring, the key aspects to grow your business.
Marketing planning and delivery
Consistent and relevant content is essential to developing your profile and generating enquiries.
We will develop a content plan for your social media, customer emails and website updates to ensure your messages are consistent across all channels.
Ongoing support and measurement
We're with you every step of the way as your marketing partner with monthly reports to track the effectiveness of your marketing activity.
We will provide a mentoring service for you, or a member of your team to deliver your marketing or we can do it for you.
Website (optional)
If you need a website to promote your business or want to set up online we will set up your website to get you started.
Websites are professionally written with call to action contact forms, a blog page with the site and each page optimised for Google.
Quality assured.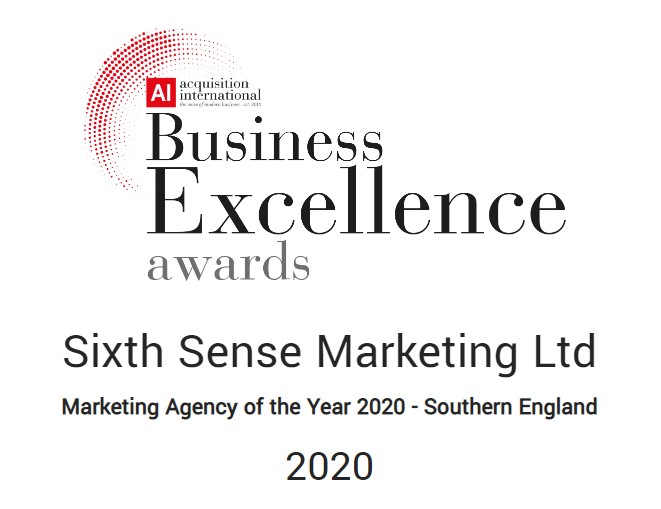 Convince me you're right for my business

Let's talk. But before that it's worth knowing the founding directors we employed in demanding corporate marketing roles. Sixth Sense Marketing has numerous awards and independent endorsements. We work with people who are ambitious to grow their business and value the input of experienced people.
Why are you offering this digital marketing package?

We have significant experience working with SMEs to use digital marketing to help them grow their business. We know what works. We are a Hampshire marketing agency and we have provided digital marketing service to clients including high street retailers, restaurants and pubs as well as home-based businesses. We started our own business in 2014 and we enjoy working with small business owners and making a difference. We get a buzz out of working with people with a passion for service, a belief in an idea and a determination to be successful and face challenges head on.

Watch our video on marketing support for high street businesses here.
How does the service work?

We provide the essential marketing tools to ensure you are set up to maximise enquiries and build your profile. We will help you create a marketing plan and provide ongoing advice and support.
How much does a typical project cost?

Details of the digital marketing package and support is laid out in detail here.