Our relationship with Costa Blanca law firm Sun Lawyers began back in 2020 following an tenuous introduction from a contact of a contact. Sun Lawyers helps people to buy their dream home in Spain. People are either retiring there or wanting a holiday home.
We support Sun Lawyers through COVID where travel to Spain was impossible, and its core business was impacted. We stepped up the communication and introduced new ideas like webinars to stay in touch with contacts who themselves were frustrated at not being able to make progress.
As our relationship developed and trust grew, so the scope of our engagement widened. We are now the outsourced marketing team running the communication and events campaign targeting the UK market. We are responsible for:
Arranging their presence at overseas property shows like A Place in the Sun Live
Advising on a digital marketing strategy
Raising their UK profile including awards like 'Expat Law Firm of the Year – Spain 2022' AI
Content creation and case studies to help educate future buyers on how to purchase a property in Spain
Managing the Sun Lawyers UK website
Running the Sun Lawyers Facebook and Instagram accounts
Receiving telephone enquiries via a UK Freephone number that we set up
Liaising with media companies in Spain about buying advertising space
Working with an SEO company to increase web site traffic and conversions
Rewarding and successful work
The work is rewarding and fun for us and successful for Sun Lawyers. This is evidenced most clearly by a diary account we have shared about the weekend spent in Dublin at A Place in the Sun LIVE.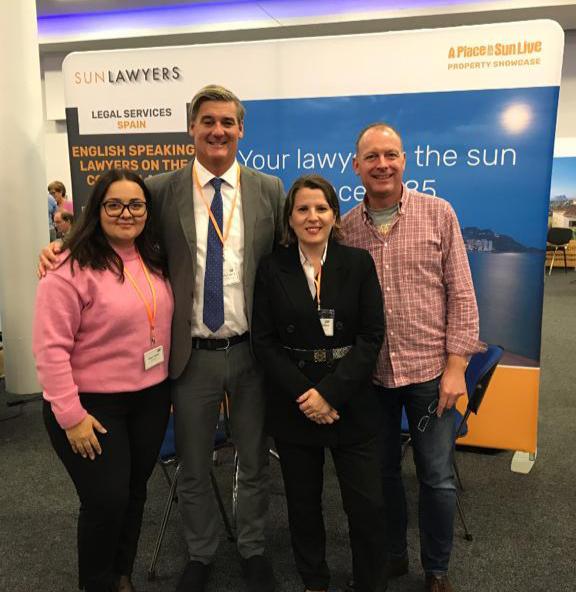 If you are thinking about buying a property in Spain, why not give Sun Lawyers a call on 0800 130 3669. If you ring, we look forward to speaking with you!!