As an agency we're forever on at our clients to celebrate and share the successes in their business. It is something that we are very poor at doing ourselves. It's a case of 'do as we say, not as we do!'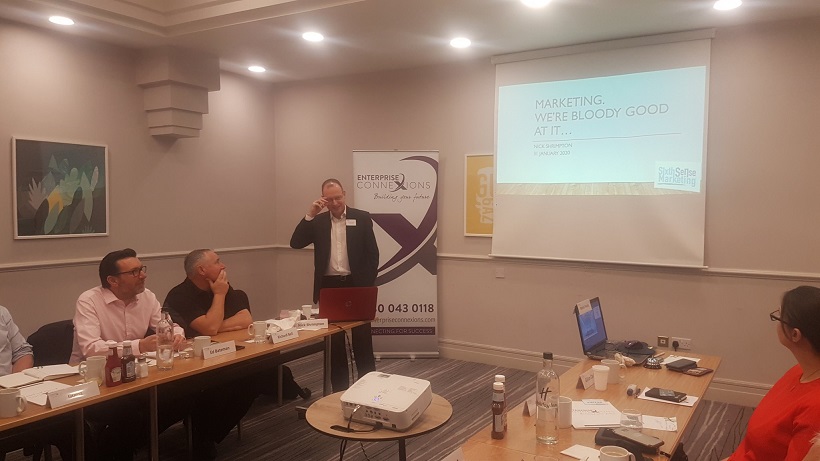 So it was with a really large dose of self-belief that I presented to the Enterprise Connexions Farnborough Group on 31 January. The title of the presentation: "Marketing – We're bloody good at it!" It's been a presentation three years in the making. By that I mean it's taken that length of time to have complete belief that among those agencies out there who offer similar services, we are at or very near the top of the pile. Those who know us will understand that arrogance is not a trait they would recognise – this is outside the comfort zone!
Understanding what clients value about our marketing service
What we have come to understand is just how much clients value us doing their marketing in the same way that they would if they had:
The knowledge to know how to do it
The time to spend doing it (knowing it would take them longer than us in most cases)
The energy left at the end of the day – another list of things to do after the day job has finished.
A lot of the testimonials we receive reference our innate ability to write and phrase in a style that is consistent with the culture of a business. That means clients can take what we prepare for them and use it straight away. Here is one example.
The approach to social media post writing has been very refreshing. They quickly adapted to my writing style – meaning the scheduled posts and my own posts in real time always 'feel' the same."

David Hogg, Horizon Imaging
If you are looking to outsource your marketing to an agency, wouldn't it make sense to choose one that can reflect the style and personality of your business? Feel free to contact us, we'd be delighted to help you.