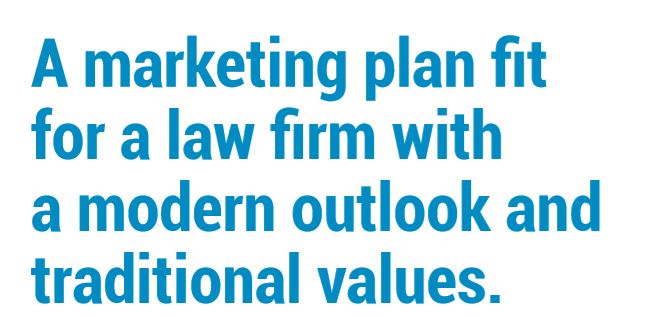 Managing Partners and Senior Partners in law firms care passionately about client service and the image of their firm in the community in which it operates.
The typical firm I am thinking of is maybe long-established, and the partners and staff both live and work in the area where the firm has its office(s). Here is a pragmatic marketing guidance note with your firm in mind.
Supporting the outward-facing image of the firm is its marketing plan. Often, the plan resembles a number of ad hoc disparate activities, brought together in a document reflecting the personal and departmental preferences of the fee earners. There might be an employed Marketing Co-ordinator, whose task it is to manage and deliver the activities. This person may be frustrated as fee earners who were keen on an idea at inception become 'too busy' to support the 'nuts and bolts' implementation.  
What I describe above is a bottom-up approach to law firm marketing. It is unfocused, tactical, has no overall purpose and is probably not untypical! Such a marketing approach is unlikely to contribute to enhancing the image of the firm. In this paper, I recommend a different structure to marketing; one that is perfect for a heritage legal brand. A firm with a mix of private client and commercial work, and whose aim is to be seen as having a modern outlook with traditional values. If you recognise some of this in your firm, feel free to download our white paper