Social media, done properly, is an enhancer of reputation and profile for SJP practices. The job of leveraging the marketing benefits need not fall to you, the practice principal. You have plenty on your plate ready. If you have a marketing budget for reinvesting into your practice, then social media outsourcing can work perfectly.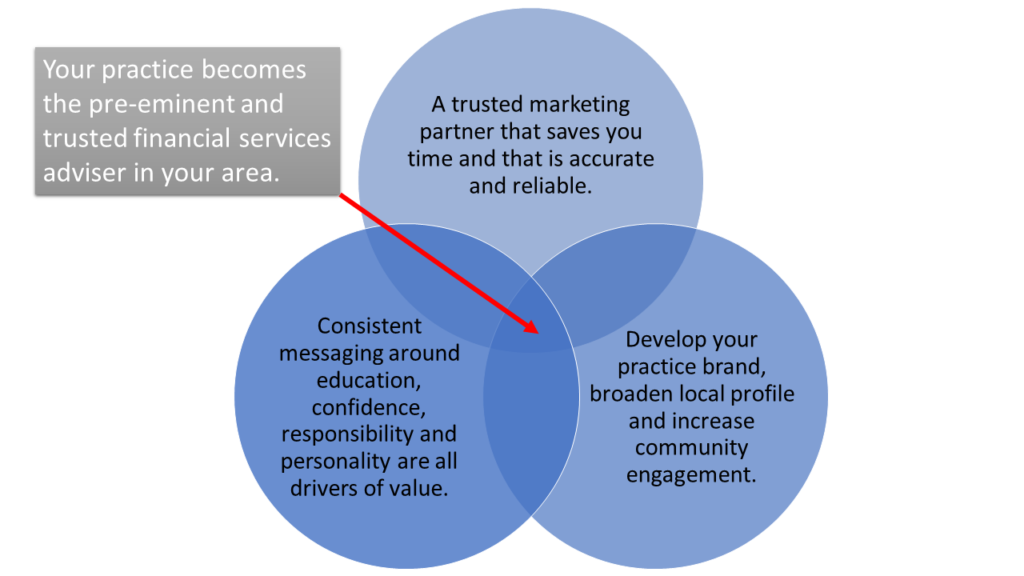 The benefits of consistent and proper use of social media.
For your St James's Place Practice, a presence on selected social media platforms can help towards achieving these objectives:
An increased awareness of your brand and brand narrative.
An image of you as a client-centric thought leader commenting on subjects that are concerning your target audience.
An opportunity to engage directly with people in your community on subjects where you are the expert.
The ability to put put forward your personality, the social activities of your practice and how that contributes to community wellbeing in your area.
The market for financial services advice is competitive
A lot of people do what you do in your area. Prospective clients do not have the same level of understanding as you of the nuances between different advisers. They will use the internet to help draw up a shortlist of two or three advisers to contact.
Social media and other digital marketing activity can help to make sure that you make this shortlist. There is a skill to this because client acquisition is not the primary objective of social media and the content must contain no call to action. By having a content plan that puts forward information in these broad areas:
Education
Confidence
Responsibility
Life at your practice
we create a rounded portrayal of you and your work. We are not seeking to get you to Number 1 on Google. The objective is to appear pre-eminent in your area. Our work, for you achieves this over time.
Your client avatar
If your ideal client is:
35-45 years old
A property owner
With a family
Successful career, moving now in senior roles
this social media and digital marketing work matters. Why? Because the description of the person above is someone raised in the computer and internet age. For them looking a financial adviser online is no different to looking for and MOT test centre.
Life time value of a an ideal client
Can you estimate the potential life time value of the client profile described above? Digital marketing can help get you closer to these people.
Social media will become accepted as a necessary part of a practice's promotional activity. You have the choice to be ahead of the curve or to play catch up. We have a social media subscription service designed for SJP Partner Practices. We will only take on one practice per town. A description of the service, the cost and the fact there is no contract is set out here.
We are well placed to help you. We know well the world of financial and professional services and we look forward to being of service. Call 01252 213131